Source: NHL.com
NEW YORK — Less than two weeks after Lou Gehrig's disease claimed the life of a close friend, Henrik Lundqvist was among an NHL contingent recognized for their dedication to supporting the fight to find a cure for the fatal disease that has impacted the hockey community in recent months and years.
The ALS Association Greater New York Chapter held its annual Lou Gehrig Legacy Gala at Pier Sixty on Monday, honoring Lundqvist, the former New York Rangers goalie, former New York Islanders and Rangers forward and Hockey Hall of Famer Pat LaFontaine, the late Rod Gilbert, a former Rangers forward and Hockey Hall of Famer, and NHL Commissioner Gary Bettman.
Commissioner Bettman received the Jacob K. Javits Lifetime Achievement Award. Lundqvist, LaFontaine and New York Yankees pitcher Nestor Cortes received the Lou Gehrig Sports Award. Gilbert's widow, Judy Gilbert, accepted the Champion Award in memoriam.
The gala raised more than $500,000 through donations and a silent auction.
Lundqvist's friend of 14 years, Chris Tschupp, a former hockey player turned model and actor who was selected by the Calgary Flames in the 1990 NHL Draft, died last week after a more than four-year battle against amyotrophic lateral sclerosis, which is commonly called Lou Gehrig's disease or ALS.
"The last three and a half years have been tough," Lundqvist said. "It's been tough to see. You knew what it was about, ALS, but until you see someone closer to you go through it, that's when it really hits home and what it means to his family, his wife. That's the tough part. So, it feels really good to be here tonight for so many reasons, but definitely for Chris. He was supposed to be here tonight."
Lundqvist was introduced by former Rangers forward Adam Graves. At the end of his speech accepting the award, Lundqvist raised a glass to his late friend and received a standing ovation.
Tschupp was also recognized in a video of his life and how he was living in the latter stages of ALS that played during the gala. It was shot in September 2022. He died in late October.
His widow, Sofia Grace, gave an emotional speech after the video, echoing words from Brianna LaFontaine, Pat's daughter whose husband, Randel McCoy, is currently battling ALS, by saying the acronym should stand for "A Love Story."
Grace mentioned how Tschupp's goal was to make it to the gala on Monday to be with Lundqvist and to meet both Bettman and LaFontaine.
Instead, Lundqvist said they will have a celebration of Tschupp's life at photographer Danny Clinch's gallery in Asbury Park, New Jersey, on Tuesday.
"He was painting in the end," Lundqvist said. "There will be some music, a celebration. He has a tight crew of people around him, great friends through the hockey community as well. It will be special."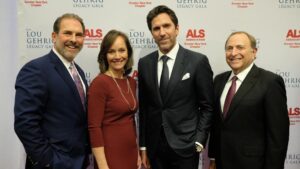 LaFontaine spoke from his heart about what ALS means to him and how it has impacted his family since McCoy's diagnosis in 2018.
He called himself "a conduit here" and said he was accepting the award on behalf of his daughter and son-in-law.
"I'm a parent first," LaFontaine said. "This isn't something you sign up to be a part of, it kind of chooses you. It's not like the draft. But when you do get chosen, as my son-in-law and my daughter did, you're so grateful that you're not alone and there are resources and people out there to help you navigate the tough times, because it's all new.
"The three worst letters you could ever hear are ALS."
LaFontaine said McCoy is getting along, but his hands, voice and his strength are limited.
"It's all about slowing down progression," LaFontaine said. "We were lucky there for about six months that he kind of leveled off and we do our best to keep him there. The Stanley Cup here is let's find a cure. If you can make the playoffs, that's slowing the progression down. And I'll be forever grateful and indebted to the hockey family for showing up."
Commissioner Bettman said he was representing the NHL family in accepting the lifetime achievement award.
He mentioned Tschupp, McCoy, Calgary Flames assistant general manager Chris Snow and former Toronto Maple Leafs defenseman and Hockey Hall of Famer Borje Salming in his speech. Snow and Salming are currently battling ALS.
He also talked about the work Gilbert and his widow, Judy, have done to raise awareness of ALS. Gilbert, who passed away in August 2021, was honored with the Lou Gehrig Sports Award in 2003.
"I think most people know since I've been at this long enough, that I believe that sports has a platform that can be used to make a difference in people's lives," Commissioner Bettman said. "What the NHL family is doing to raise consciousness for ALS, to help raise funds, is a part of that. We are the ultimate team sport, we believe in the ultimate family, and we come together to support those in need."